按此往中文版
| | |
| --- | --- |
| CUHK 50th Anniversary | |

Embrace our Culture; Empower Our Future
Come join us to celebrate the Golden Jubilee of CUHK!

Join the Supporting Team and cheer for the CUHK Golden Jubilee Marathon Team
Over 1800 runners have registered as members of the CUHK Golden Jubilee Marathon Team and a lot of cheerers are needed to support them!
All CUHK students, staff, and alumni are welcome to join the Support Team to cheer and to provide logistic support on February 24. Each team member will be given a limited edition Support Team polo shirt on a first come, first served basis! Click here for online registration.

Training kicks off in December, 2012
In order to get better prepared for the marathon races, all CUHK Golden Jubilee Marathon Team members are welcome to join the seminars and field training conducted by sports professionals and teachers from the Department of Sports Science and Physical Education. The first seminar and field training has been held on December 15, 2012 (Sat). You can click here to review the content and lecture notes of the seminars. To view the photos taken at the training session, please click here.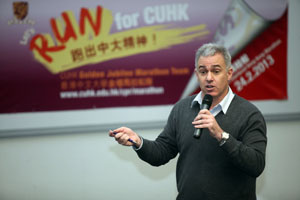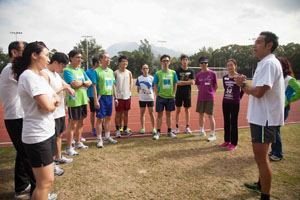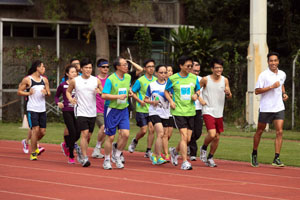 CUHK 50th Anniversary Distinguished Lecture by Professor Philip Zimbardo
The first 50th anniversary distinguished lecture by Professor Philip Zimbardo on "My Journey from Evil to Heroism" will be held on January 29 (Tue) at Yasumoto International Academic Park.

Professor Zimbardo is a world-renowned psychologist and internationally recognized as the "voice and face of contemporary psychology". He has been given numerous awards and honors as an educator, researcher, writer, media contributor, and for service to the profession of psychology.

Professor Zimbardo's current research interests are in the domain of experimental social psychology, with a scattered emphasis on everything interesting to study from: time perspective, persuasion, madness, violence, political psychology, and terrorism. His current passion is The Heroic Imagination Project, exploring and encouraging the psychology of everyday heroes.

Click here for online registration.

CUHK and HKJC join hands to build sustainable future for Hong Kong
On January 3, 2013, CUHK and The Hong Kong Jockey Club (HKJC) jointly announced the launch of the CUHK Jockey Club Initiative Gaia (Gaia), to promote environmental conservation and sustainability in local communities

A three-day conference on "Forty Years of Environmental Protection in China" was also held right after the launching ceremony, at which renowned environmental experts got together to review China's accomplishment in environmental protection work and shared insights on the way forward. 
Three innovations pioneered by Gaia in the coming 5 years will be:

Jockey Club Museum of Climate Change - to showcase Dr. Rebecca Lee's valuable "Three Poles" collection (the North Pole, the South Pole and Mt Everest)

Carbon Reduction Partnerships – to engage local non-governmental organizations and schools to reduce carbon emissions

Public education via conferences, forums & symposia

More details of the CUHK Jockey Club Initiative Gaia can be found at www.gaia.cuhk.edu.hk

50th anniversary souvenir now on sale!
| | |
| --- | --- |
| To celebrate CUHK's 50th anniversary, a collection of limited edition souvenirs has been prepared. Five items are now on sale at the souvenir counter at John Fulton Centre. The items include: 50th Anniversary statue – HK$680, 50th Anniversary logo pin - HK$20, badges (a set of 2, 2 different styles) - HK$20, 8GB USB memory card - HK$90, magnetic bookmarks (a set of 3) - HK$30. Act fast! While stock lasts! | |
The spirit of the 50th Anniversary is in the air
| | |
| --- | --- |
| Anniversary banners and flags have been hung to create a celebratory ambience around campus. This also signifies that the celebration for the 50th anniversary has been officially launched. So get prepared and join us to celebrate the Golden Jubilee of CUHK! | |
This message is sent from Communications and Public Relations Office. For enquiries related to this message, please contact CPRO at 50thanniversary@cuhk.edu.hk.