按此往中文版

| | |
| --- | --- |
| The 12th Honorary Fellowship Conferment Ceremony was held on May 13. Seven distinguished persons who are closely associated with CUHK were honoured in recognition of their contributions to the University and the community. The honorary fellows are: | |
Mr. CHAN Chee-hoi, Warren

Mr. Chan is a renowned Senior Counsel in Hong Kong and an alumnus of the History Department at CUHK Chung Chi College. Mr. Chan is an ardent supporter of the Faculty of Law in CUHK and has also generously supported the development of the Departments of History and Philosophy and I-CARE Programme.

Dr. CHAN Sui-kau

Dr. Chan, a prominent industrialist and philanthropist, is the founder of Yangtzekiang Garment Ltd and YGM Group. Dr. Chan and his family members are strong supporters of education in Hong Kong and mainland China, having made generous donations to numerous schools and universities, including CUHK's Institute of Chinese Medicine and the I-CARE Programme.

Mr. HUEN Wing-ming, Patrick

With over 50 years of experience in the banking industry, Mr. Huen is currently Vice-Chairman and Executive Director of the Industrial and Commercial Bank of China (Macau) Limited. Mr. Huen is a member of the Board of Trustees and Finance Committee of the Shaw College. His generous support made available the construction of the Shaw College Huen Wing Ming Building, and the Patrick Huen Wing Ming Professorship of Systems Engineering and Engineering Management.

Prof. LEE Kam-hon

Prof. Lee is currently Emeritus Professor of Marketing at CUHK. For more than 40 years, he has made significant contributions to the Faculty of Business Administration, assuming various key positions including Director of MBA Programmes, Faculty Dean, and Director of the School of Hotel and Tourism Management. He established a strong global student exchange network with leading MBA programmes in different key cities and helped in launching the territory's and Asia's first Executive MBA Programme in 1993.

Dr. LEE Lok-sze, Rebecca

Dr. Lee is the world's first woman explorer to reach the Arctic, Antarctic and Mount Everest. She has made eighteen expeditions to the poles and four ventures to Mount Everest. Over the past two decades, Dr. Lee has made immense contributions to polar exploration and research. Dr. Lee will provide the valuable collections through her lifelong field work in the three poles to the 'Jockey Club Museum of Climate Change' to be set up by CUHK, with an aim to raise public awareness towards environmental protection.

Dr. LEONG Siu-hung, Edwin

Noted philanthropist Dr. Leong is the Chairman and Founder of Tai Hung Fai Enterprise Company Limited. He has a deep personal commitment to social issues faced by the Hong Kong society, particularly children and the elderly. He established the Henry G Leong Gerontology and Geriatrics Endowed Professorship in support of research on gerontology and geriatrics, and is currently a member of the Committee of Overseers of C W Chu College, giving his valuable guidance towards the college's strategic development.

Prof. Mike McCONVILLE

Prof. McConville is Emeritus Professor of the Faculty of Law at CUHK. In 2005, he was appointed the Founding Director and Professor of Law at CUHK School of Law. From August 2008, he became the First Dean of the Faculty of Law. Under his leadership, the CUHK Law Faculty has undergone unprecedented growth and development as the newest provider of legal education in Hong Kong.
Wu Zhi Qiao has committed to improve the lives of villagers in remote and poverty-stricken areas in the Mainland by constructing footbridges and facilities. To mark its golden jubilee this year, CUHK teamed up with Wu Zhi Qiao and arranged its teachers and students, together with volunteers from Peking University, Xi'an Jiaotong University, Stanford University and Oxford University, altogether 70 people, to go to Dangzheng Village, Gansu Province. The team built a footbridge with over 100 locals which greatly improved the livelihoods of the villagers.
The bridge was named "CUHK Golden Jubilee Wu Zhi Qiao". Vice-Chancellor Prof. Joseph Sung led CUHK team and joined the volunteers in constructing the bridge. Other members of the team included Wu Zhi Qiao Honorary Secretary Ms. Leonie Ki, representative of the sponsor Chan Sui Kau family Mr. Felix Lo and HKSAR Government's Secretary for the Environment Mr. K S Wong.
"CUHK Golden Jubilee Wu Zhi Qiao" is 30 meters long and designed by Prof. Edward Ng, Chairman of Wu Zhi Qiao and professor of the School of Architecture, CUHK.
Please click on the link next to the title for more information of the "CUHK Golden Jubilee Wu Zhi Qiao".
CUHK launches the "CU50‧Care" programme which encourages all members of the University, including students, staff, alumni and friends, to 50 hours of community service commitments within the jubilee year, assembling their power to contribute to our society.

The programme kicked off with a tree planting day which was held at the Ma On Shan Country Park on May 11. Vice-Chancellor Prof. Joseph Sung, together with 200 students, staff, alumni and their family, carried the seedlings of Hong Kong Gordonia and planting tools uphill to Luk Chau Shan at the Park. After an hour's hike, participants were able to enjoy the nice mountain view and light breezes while they practiced their newly acquired planting skills. The first "CU50‧Care" event ended in sweat and glee.

Prof. Cheung Kwok Wai has been invited to be the speaker of the third 50th Anniversary Fair Public Lecture. The topic will be 'Rhapsody on Innovation'. Details are as follows:

| | |
| --- | --- |
| Date: | June 8 (Sat) |
| Time: | 7:00pm |
| Venue: | Lecture Theatre, Hong Kong Central Library |

Synopsis:

How can young people cultivate an innovative mind-set? How can Hong Kong nurture creative and innovative industries? These questions are of great interest and importance. In this lecture, Prof. Cheung Kwok-wai will present some insane but easy-to-understand examples of innovations, and incorporate his first-hand experience, to introduce the wonders and joy of the innovation process in a delightful and relaxed manner. The talk will touch upon science and technology, music, culture, genuine and fake innovations, knowledge-based industries, and will start with our favorite tea drinking culture...

Interested parties please click on the link next to the title for online registration.
The Faculty of Education has put together a series of public lectures to celebrate the 50th Anniversary of CUHK. The fifth lecture organized by the Department of Sports Science & Physical Education will be held on May 25. Details are as follows:

| | |
| --- | --- |
| Date: | May 25 (Sat) |
| Time: | 10:30 - 11:30am |
| Venue: | Lecture Theatre B6, Ho Tim Building, CUHK |
| Topic: | Professional Development of Physical Education Teachers: A 20-year Retrospective and Prospective Analysis |

Synopsis:

The curriculum reform in Physical Education has become an important turning point for the professional development of Physical Education Teachers. Before the reform, Physical Education teaching is mostly skill-based and teacher-centred. After the implementation of the reform, Physical Education has become one of the subjects under the key learning area, teaching become student-oriented, which in turn enhance students' whole person development. Physical Education and Teachers' Professional Development are gradually changing from practical and theoretical based to constructive and instructive based.

Interested parties please click on the link next to the title for online registration.

The 'CUHK 50th Anniversary Soccer Tournament' organized by the CU Staff Football Association has completed.

After rounds of heated games held in the past few Sundays, footballers from CUHK and HKUST teams made it to the final which was held on May 12 at the Lingnan Stadium.

The competition in the final was neck and neck. HKUST President Prof. Tony Chan was amongst the players of he HKUST Team. Friends and families of both teams cheered for the players at the field. In the end, CUHK Team managed to score 3 to 2 and took the championship.
The fourth Faculty of Education 50th Anniversary Public Lecture organized by the Department of Curriculum and Instruction was held on May 4.
Speakers include Prof. Lam Chi Chung, Prof. Wong Ngai Ying and Mr. Fung Yee Wan and the topic was 'Extracurricular Activities, Curriculum & Other Learning Experience: Myths & Reflections'.
There are many types of extra-curricular activities for schools in Hong Kong. Other than the various inter-school and internal school competitions, there are still interest groups and music instrument classes, Olympic Mathematics classes as well as martial art classes organized by religious groups, voluntary and commercial organizations. In addition, in response to the trend of the demand in recent years to implement life-wide education and other learning experience activities, the situation is really mind-dazzling.
Some might say that these activities can facilitate the learning process of the students. However, some think that too many extra-curricular activities will affect student learning. But after all, "What is learning?" , "What are the expected outcomes of learning?", "What is the true meaning of extra- curricular activities?". The seminar will explore the above questions in different angles by analyzing the curriculum, learning, student growth and social actions.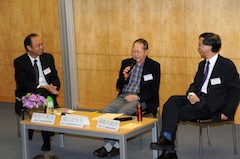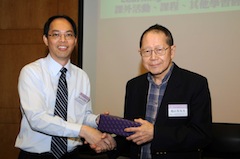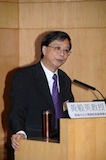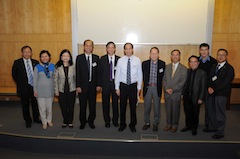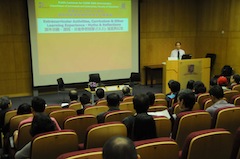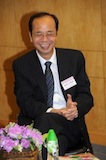 This message is sent from Communications and Public Relations Office(CPRO). For enquiries related to this message, please contact CPRO at 50thanniversary@cuhk.edu.hk.